Exploring Dordogne
Captivating towns dotted with medieval architecture, impressive French countryside scenery with its green meadows and vineyards romantically wrapped around chateaux, farms, honey-stone bastides, and rich culture: the Dordogne region is an seductive corner of rural France. 
5 reasons to visit Dordogne:
You are in the right place if you are:
looking for the rural, slow, peaceful pace of life surrounded by the beauty of the medieval towns and ancient hamlets 
super active but want to practice your favorite sports outdoors combining it with beautiful nature and fresh air
a lover of delicious food with a glass of excellent wine
fond of history and art which stretches for millions of years back
simply love the sun, fresh air, and relaxing lifestyle  
The Dordogne
The Dordogne is a department in southwest France, set between the Loire Valley and Pyrenees mountains. The French tend to refer to this area not as "la Dordogne" but as "le Périgord", With a rich, rural nature, a slow pace of life, great gastronomy and exceptional architecture with no less than 8 villages ranked the most beautiful villages of France it's certainly the most delightful area to visit for the lovers of wine and food, world-goes-by watchers and the lovers of nature and sports.
The undulating French landscape with the fields rolling down the sunburn hilltops in their green intensity; the houses made of native golden limestone that seem glowing in the sunshine rolling down the narrow streets of the honey-stone bastides, the medieval castles and grand chateaus standing proudly above the towns, and the majestic Dordogne river twisting among the hilltops.
The region offers plenty of choice from romantic river tours to exhilarating hot air balloon rides. Hiking, canoeing, mountain bike, horse-riding, swimming, playing tennis and golf…
Lots of local products constitute the reputation of the region: notably paté de foie gras, walnuts and truffles, Perigord strawberries.
Wine from Bergerac is not as famous as neighboring Bordeaux vintages but it is highly respectable; As The Telegraph put it 'a glass of sweet Monbazillac paired with foie gras or early summer strawberries is a fine marriage indeed.'
Our Favourite Places Near Beaumont-Du-Perigord
Monpazier
Monpazier is a simply stunning town, the most famous and best preserved Bastide of Perigord. The bastide was founded in 1284 by Edward 1 of England. Its medieval centre is preserved almost completely intact, and it still dazzles with its exceptional character. There are small shops of various artists, crafts-masters and producers based in the village.
Issigeac 
Issigeac is a picturesque medieval village that dates back to Roman times. It is always particularly popular on Sunday mornings when it hosts one of the best markets in the area. Built in the middle-ages, with series of narrow winding streets lined with captivating ancient buildings.
Saint-Avit-Sénieur
Saint Avit Senieur is home to an abbey dedicated to Saint Avit who was a hermit who died in 570.This 60m long, 20m wide and 43m high 14C fortified church looks very imposing indeed. Much of the abbey is now in ruins but there remains a large (very large considering the size of the village!) 11th century church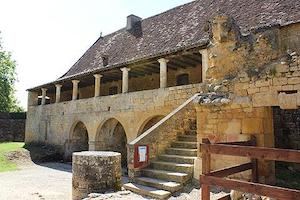 Domme
Domme is classified as one of the most beautiful and well-preserved villages of France and occupies an exceptional position high above the Dordogne river with its golden stone houses, fortified arches and the ramparts. The bastide was fought over repeatedly during the Hundred Years' War between the French and English, and it's easy to see why when you consider the view.
Roque de Gageac
In a stunning position on the bank of the Dordogne River, and backed by a steep limestone cliff, La Roque-Gageac is the perfect picture postcard village. With its cobbled streets more like mountain goat tracks, typical Perigord rooftops, old-fashioned charm and magnificent views of the river, La Roque-Gageac is a village that invites you to daydream…
Have a Question?
Talk to Us